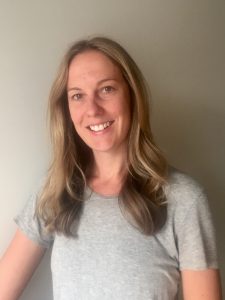 Lindsay graduated from the University of Liverpool, UK, with a Bachelor of Science in Psychology and Health Sciences in 2006. Shortly after graduating, she moved to Whistler and quickly realized her passion for a life in the mountains. Working first as a ski instructor and then as a ski patroller, she enjoyed her fair share of fresh air and fresh powder, whilst at the same time, gaining an array of experience in acute sporting injuries. After sustaining an injury herself & going through extensive rehabilitation to get back on her skis, Lindsay developed a greater understanding & appreciation of Physiotherapy & its importance in helping people make the most out of an active life.
This is ultimately what led her to Scotland, where she completed her Masters of Physiotherapy, also gaining a Diploma in Sports Massage. Her clinical interests include orthopaedic & sports rehabilitation.
When not working, Lindsay can be found exploring the mountains on skis, foot or bike and is known to partake in the odd marathon or triathlon here or there.
Lindsay became the proud mother of a little boy in June 2020.