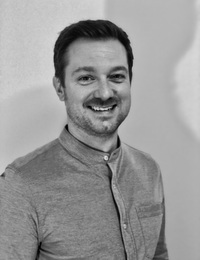 UPDATE: Matt is currently recovering from a minor knee surgery and will be unavailable until 2024.  Sorry for the inconvenience. 
Matt Sherlock is an Osteopathic Practitioner. He has been working as a therapist since 2006 after completing a Bachelors degree in London, England. As well as attending post graduate training courses he also completed a three year Masters degree in Osteopathic Manual Therapy in 2012.
You can book on-line or call Matt directly on 604 905-9372
His training and experience puts him in a perfect position to help you recover from injury and return to pain free movement. As well as providing effective treatment for back and neck pain he can help you with other injuries and long-term issues too. By offering and combining a number of different treatment options he can ensure treatment both is effective and comfortable.
If you think you might benefit from an appointment then schedule a free 15 minute consultation with Matt to discuss your injury. Matt will be able to perform an initial assessment and discuss possible treatment options with you.
Matt is qualified to use, a variety of soft-tissue techniques, rehabilitation, conditioning, visceral manipulation, and Craniosacral therapy. His other interests include practicing Tai-Chi & Qi Gong, exercising, hiking, reading and studying.